Cyberquarantine from Breach Report: Main threats and methods of preventing cyber attacks during the coronavirus period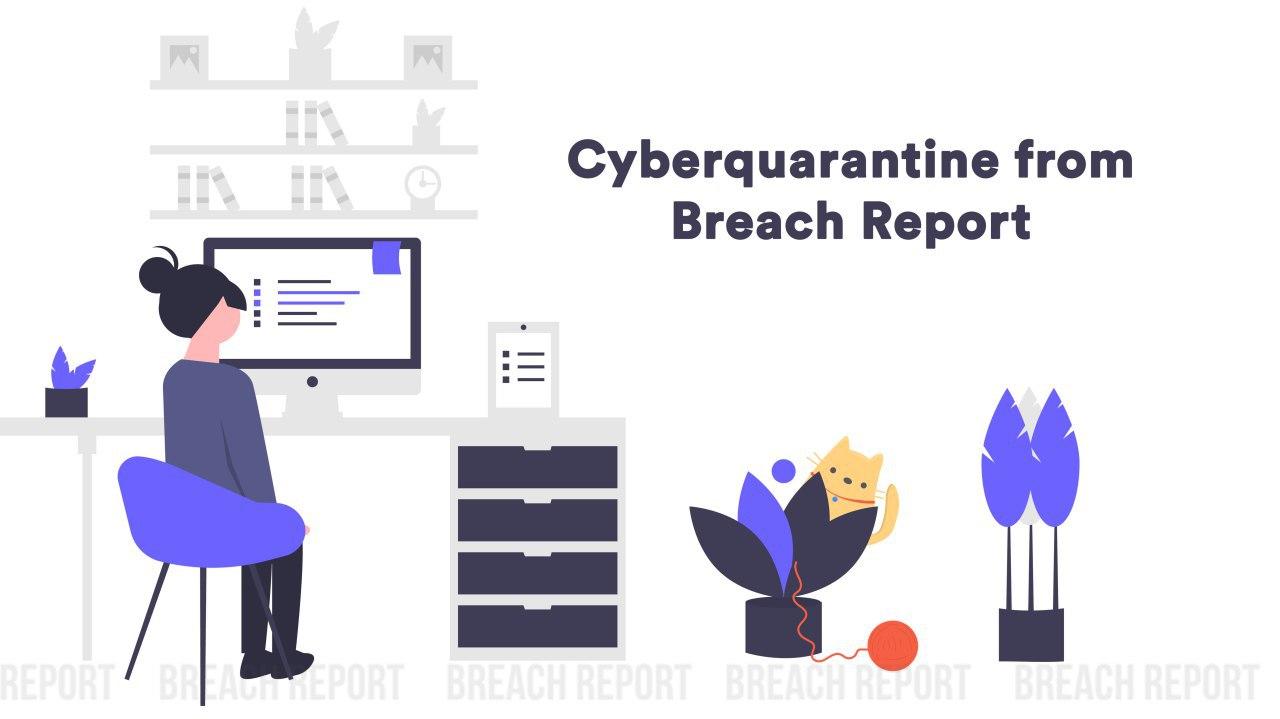 During the quarantine time associated with the spread of the COVID-19, many companies organise remote work for their staff. Keeping it in mind, the probability of cyber attacks on home networks and personal data of employees who are working remotely has increased.
Breach Report will assist you in understanding what are the dangers, and provide recommendations on minimizing the risks.
The main threats you face while working from home:
Growth in the number of fraudulent free services
A lot of fraudulent websites are appearing in view of the COVID-19 outbreak with unsecure connections. Those sites can be used by hackers to launch attacks. The panic caused by the present situation encourages you to open unsecure links and download unverified applications. This puts at risk not only personal, but corporate data as well.
Vulnerabilities in home devices
Home routers are one of the desired targets for attackers, due to the fact that these devices combine all the other ones in a single network and contain a large number of weak spots if not configured properly, like, open ports.
Business email compromisation (BEC-attack)
The change in employees' routine gives hackers a lot of space for manipulation. Among the total number of corporate emails, just one more asking to forward some data to someone may not seem that suspicious to an employee.
Data leak from shared documents
Online tables or text editors which allow multiple people to work in the same document at the same time (Google Sheets, Google Docs, Nuclino) with incorrectly configured accesses can be indexed by search engines and become a source of corporate data leakage.
Access to your laptop or mobile phone
In case you don't always work from home, and prefer to set up your workplace at a coffee shop, be more attentive to your devices. An opened laptop cover or an unlocked phone screen in a cafe or co-working significantly increases the risk of corporate information leaks.
How to arrange a safe home-office:
Only use your corporate email. This will make an attacker's trial to enter the dialog on behalf of an employee by registering email on an external domain more obvious. Also, do not click on links in emails from strangers, suspicious companies or COVID-19-related topics;



Use two-factor authentication (2FA) when logging in to the organization's network and when using your email;



Use shared docs that allow registration only by corporate mail. Meanwhile, it is better to assign a single responsible member of your team who will administer this environment;



Do not use third-party services that connect via intermediate servers to access the corporate network;



Do not visit sites with an unsecure connection;



Use a VPN and do not forget to create backups;



If you work out of home, use secure passwords and an automated screen lock on your devices.
If you are worried that your personal data may have already been compromised, check whether your email has been hacked. You can find out if you are secure in two clicks: tap on Breach Report and enter your email address. In case your data was stolen, we will provide you with a detailed report on the breach. You will also receive a personal guide on how to proceed for further protection of both your personal and company's data. Or if you believe that corporate emails from your company's domain might have been compromised contact us at info@breachreport.com

Take care of your health,
and Breach Report will take care of your security